I'm Bart and last year my girlfriend and I decided we wanted to build a car to drive track days with. 9 months later, the base was finished in the form of a
Honda Civic Type-R EP3. Next to this track toy, I own a Mitsubishi Lancer Evo 8. I like to share all my car related adventures on my social media pages. I also own a Mitsubishi FTO GPvR but that one needs a lot of TLC. A new project for later!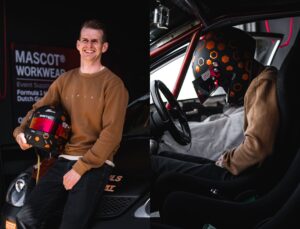 Name – Bart van Vliet
Age – 35
Country – The Netherlands
Current Race Series – Mostly trackdays and some Dutch Time Attack races
Race Team – DMR Motorsport
Car for 2022 – Honda Civic Type-R EP3 2005
Driver Q&A
Which Zamp Helmet are you Wearing this Season?
Best Racing Memory?
Our first Time Attack round. 3rd time ever driving on track and set the fastest lap time of our class that day.
Favourite Track?
Zandvoort for now. The banking is really cool.
Dream Race to Take Part in?
Rally would be really cool but I really love the GT classes too!
Goals for 2022 Season?
Gain lots of experience and try to come on top of the semi-pro Dutch Time Attack lap times to compete a whole season in the semi-pro class next year.
Hobbies Outside of Racing?
Fitness, technical work, social media.
Who Is Your Racing Hero?
Mika Häkkinen