I'm Chaya and my racing adventure is just getting started. Last summer both me and my boyfriend decided that we wanted to build a race car, which we completed at the start of 2022. I have a lot more to learn but I'm already so addicted to racing, it's definitely one of the best feelings there is. Apart from driving the Civic on track, I also have a Subaru Impreza which I imported from Japan 5 years ago. This car means a lot to me and I try to keep it in mint condition. I try to capture and give more insights in my racing adventure on Instagram, which involves both the Subaru and the Honda.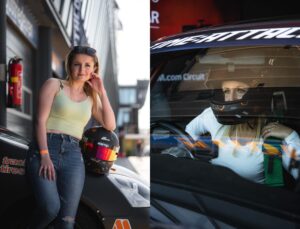 Name – Chaya Niewold
Age – 27
Country – The Netherlands
Current Race Series – Mostly track days and some Dutch Time Attack races
Race Team  – DMR Motorsport
Car for 2022 – Honda Civic Type-R EP3 2005
Driver Q&A
Which Zamp Helmet are you Wearing this Season?
RZ-59 Matte Black
Best Racing Memory?
That must be our first Time Attack. I was so nervous for the first competition, but as soon as I was on track, I only enjoyed it.
Favourite Track?
For now it's Zandvoort, as that's the only track I've driven. I would love to drive Autódromo Internacional do Algarve in Portimão some day.
Dream Race to Take Part in?
I would love to drive a Rally someday, which does require a lot more skills and having a lot more guts than I currently have.
Goals for 2022 Season?
My personal goal for my first race year is being too fast for the Club class at Dutch Time Attack. The club class is limited to 2:12.0 on both Assen and Zandvoort. My best time on Zandvoort is 2:12.3 at this moment.
Hobbies Outside of Racing?
To be honest, cars/racing take most of my free time, so I don't have a lot of time for other hobbies. I can appreciate good quality restaurants and I like to go to the gym.
Who Is Your Racing Hero?
Fernando Alonso