Hello everyone, my name is Tim Leeuwestein and since I have loved sports and speed since I was young. 8 years ago, I bought my first GoPro camera and posted my first karting video on my YouTube channel. This year I am picking up the pace with my channel and I am busy with upgrading my content. Zamp is a big part of my upgrades and I am very happy with that. The goal is to give my viewers nice and interesting videos which they might learn from and giving them content to enjoy. Don't forget to give me some nice comments on my YouTube channel!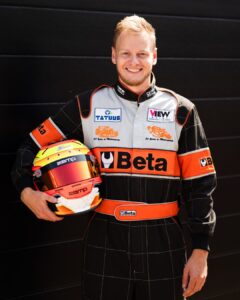 Name: Tim Leeuwestein
Age: 31
Country: The Netherlands
Current Race Series: I ride time tracked heats at different local kart tracks
Race Team: Team Zamp!
Kart/Car for 2022: Sodi Rental Karts, my daily car is a Opel Astra 1.4 turbo
Driver Q&A
Which Zamp Helmet are you Wearing this Season?
Zamp RZ 70E Switch, Orange/Yellow with Prism Red Visor
Best Racing Memory?
Being a co-driver in a Porsche GT3 at circuit Zandvoort
Favourite Track?
Outdoor: Kartcenter Lelystad (NL) / Indoor: Coronel Kartracing (NL)
Dream Race to Take Part in?
For now: driving in a Rotax Max kart race.
As a dream: a Porsche GT Cup race would be sick.
Goals for 2022 Season?
Keep my YouTube channel growing and if the possibilities are there, buying my own kart one day
Hobbies Outside of Racing?
Football (indoors and on the field), surfing and riding my KTM Duke 690
Who Is Your Racing Hero?
I don't really have one but my favourite is Max Verstappen. Besides that, my younger brother is my best karting companion to race with/against