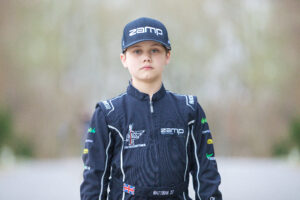 Matt has had a love of cars and racing since before he could speak. He was born with a spinal cord injury which has left him with no use of his legs below the knee but has not let this hold him back and took to go karts like a duck to water at 6 and a half years old. He won 6 podiums (4 wins) out of 9 races in Bambinos, before moving up to Honda Cadets in 2021. In April 2021, he became the youngest person in the UK with a spinal cord injury to receive a competitive race licence. This season, Matt is competing in the Bayford Meadows Club Championship and the Lydd International Kart Circuit Club Championship. Matt dreams of making a career of racing, particularly driving F1 for Red Bull, or as a GT racer competing in his beloved GT40 MKII in Classic le Mans.
Name – Matthew Knoesen
Age – 8
Country – UK
Current Race Series – Honda Cadet
Kart for 2021 – Project One chassis, RPM engine
Driver Q&A
Which Zamp Helmet are you Wearing this Season?
RZ42 Youth Orange/Blue with Blue iridium visor
Best Racing Memory?
First podium in Bambinos at Buckmore Park. It was my 4th ever race and I won both time trials – it was literally a dream come true!
Favourite Track?
Brazil Interlagos
Dream Race to Take Part in?
That's a difficult question – F1 World Championship, Classic le Mans in a GT40, 24 Hours of Daytona, Classic F1 in Monaco
Goals for 2021 Season?
To improve my racing and come in the top 10 in Honda Cadet Rookies
Hobbies Outside of Racing?
Brazilian Jiu Jujitsu, sim racing
Who Is Your Racing Hero?
Ayrton Senna