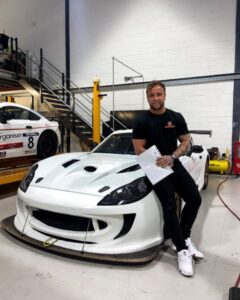 My name's Sam Callahan & I'm a 27 yo Ginetta GT4 racing driver best previously known for my career in music and my time on the 10th series of The X Factor. I began racing in 2019 with my Dad Mark who's raced since well before I was born and has taught me everything I know. I love the sport and have well & truly thrown myself at it!
Name – Sam Callahan
Age – 27
Country – England, United Kingdom
Current Race Series – The Ginetta GT4 Supercup
Race Team – Breakell Racing
Kart/Car for 2022 – Ginetta GT4
Driver Q&A
Which Zamp Helmet are you Wearing this Season?
Best Racing Memory?
Racing on the same day at the same circuit as my Dad and both coming away with P1 trophies!
Favourite Track?
Brands Hatch GP or Donington Park GP
Dream Race to Take Part in?
LeMans 24hr
Goals for 2022 Season?
Fund and Finish the full season in GT4.
Win the AM Championship in my first year in a PRO/AM Championship.
Learn lots and don't crash!
Hobbies Outside of Racing?
I don't do many things as hobbies, but I'm a singer/songwriter and musician. I was on X Factor in 2013 and have sustained a career in performing ever since. I'm also a keen fitness fanatic and a personal trainer, but I figure if you love doing something, why not do it properly and try and turn it into your job, right?!
Who Is Your Racing Hero?
Past – Aryton Senna | Present – Lewis Hamilton