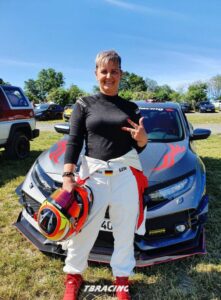 Name – Bianka Erbe
Country – Germany
Current Race Series – RCN GLP
Race Team – Team Bibi Racing
Kart/Car for 2022 – Honda Civic Type R FK8
Driver Q&A
Which Zamp Helmet are you Wearing this Season?
This season I'm wearing the RZ 44 CE Carbon/Green helmet. Last season, I'm wearing the RZ 70E Switch Orange/Yellow. Both helmets are characterized by a very good fit.
Best Racing Memory?
My new best lap on the Nürburgring
Favourite Track?
Nürburgring Nordschleife
Dream Race to Take Part in?
Start at the 24h race on the Nürburgring
Goals for 2022 Season?
RCN GLP / Hugo End
Track days in Germany and Europe
Hobbies Outside of Racing?
Mountains, nature, fashion and music
Who Is Your Racing Hero?
Michael Schumacher / Sabine Schmitz