We are delighted to announce TWO brand new graphics to our helmet range: the RZ 42 Youth Graphics and the RZ 70E Switch Graphics. These helmets are designed for those who demand style and safety, making them the perfect choice for both amateur and professional motorsport drivers alike.
The new RZ 42 Youth Graphics (SNELL 2016 Approved) are designed specifically for children and young adults up to the age of 15. This model features eye-catching graphics (White/Blue, Black/Red and Black/Green) that are sure to make you stand out on the track. The composite Kevlar mix lightweight shell offers excellent impact resistance, ensuring maximum protection for the wearer. The helmet also features a comfortable, fire-retardant interior and ventilation system, keeping the driver cool and comfortable during races.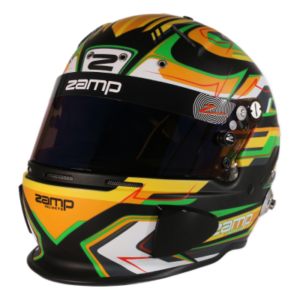 The new RZ 70E Switch Graphics (FIA 8859 and SNELL 2020 Approved), on the other hand, are designed for adult motorsport participants. Its standout feature is the matte graphics (Red/Black/Blue, Green/Black/Yellow). With this helmet's unique system, you can easily configure your helmet for a variety of racing setups including the option for adding communication & hydration. The lightweight composite aramid mix helmet also features the new DDAIR-SYSTEM, a new dual-density air integration relief system, making it a top choice for riders who value both performance and safety.
Both the RZ 42 Youth Graphics and RZ 70E Switch Graphics helmets are designed with the driver's safety and comfort in mind. They are built to last and offer excellent protection, ensuring that drivers can focus on their passion without worrying about their safety. They offer style, safety, and comfort at an affordable price, making them a top choice for drivers & karters of all ages and skill levels. Whether you're a young rider just starting out or a seasoned pro, these helmets are sure to exceed your expectations so if you're in the market for a new helmet, these new products are definitely worth considering.
To see more of these stunning new models, head over to our YouTube channel.