This complete guide to buying a race suit will explain everything you need to know to make a smart decision when it comes to buying your next race suit. We will cover everything from; Race Suit Design Features & Homologation.
Race Suit Features
The race suits of today are a long way from the boiler suits worn by drivers in the mid-20th century. They come with a whole of design featured meant to create a safer, more comfortable and overall better racing experience. When buying a race suit, it is important to consider the following list of features:
Number of layers & Material
Race suits can come with either 1, 2 or 3 layers. Contrary to popular belief, the first thing to know is that more layers do not necessarily mean better safety. If a suit has gained FIA 8856-2000 approval (see below for more details) then it has been tested to the highest standards and is therefore safe to use in any racing.
While the number of layers of a suit affects weight slightly, a one or two layer suit will be much more breathable – and therefore cooler in warmer driving conditions– than a three-layer race suit.
It is therefore the material used that is often the most important factor when it comes to the safety of a race suit. As with anything there are budget and premium materials available. Proban is commonly applied in economy suits due to its cotton base. The cotton fabric is filled with a chemical cocktail that initiates polymer formation that is irreversible. This polymer formation is the barrier that protects you from fire and intense heat. However, many racers and product specialists believe Proban to be lacking in longevity and prolonged protection.
Nomex, on the other hand, is the next most widely used material in fire suits. It is known for being far more consistent, durable, long-lasting, and protective. Nomex is trademarked product manufactured by DuPont.
Fully-floating arms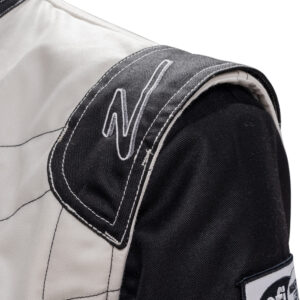 When a race suit has "floating arms" it means where the section where the arm joins to the shoulder is bellowed.
The arm section is joined to the shoulder with an elasticated material. This means that when the driver moves – turning the steering wheel or changing gear – the suit is more flexible and does not restrict the driver.
Pre-curved sleeves
Motorsport racing overalls used to have straight-cut arms, but many modern suits are now pre-curved.
This means the arm section of the suit has been originally designed to work with the driver in their natural driving position.
To drivers, it means the suit will feel comfortable while giving an optimum range of movement – without restriction – when sat in the car.
Stretch Panels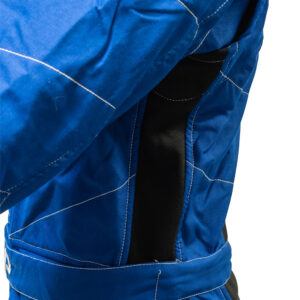 Many of the overalls we list have well-positioned stretch panels that use an elasticated material.
These panels, usually located at the bottom of the back, underarm and back of the knee, allow a driver easier and freer movement as well as improved cooling.
Flat seams
Many race suits now boast "flat seams" as a feature, but how do these help as a driver? They're as simple as they sound; the material and stitch have been designed to be as flat as possible. This may not sound like an important feature, but if you're in a tight fitting custom seat, more pronounced seams can rub and become uncomfortable when you're in the car for long periods.
Soft Collars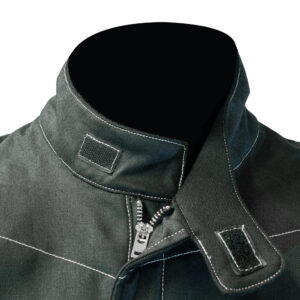 If your race suit has a soft collar, it will be made from a different material from the rest of the overall which is softer and much more comfortable around the neck area.
It's purely a comfort feature, but an important one as you're constantly moving your head and neck when looking for the next apex. If you're not, see our tutorial on circuit vision!
Ankle Cut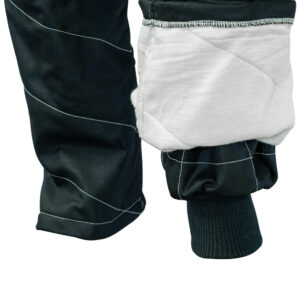 Most fireproof race suits have a traditional elasticated ankle cuff. However, some other suits use what is called a "Nascar cut", where the ankle section continues over the back of the race boot.
Pockets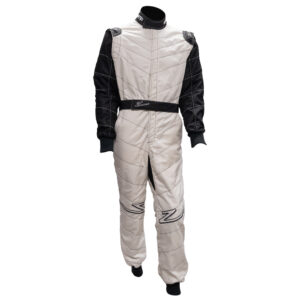 There are a few different options for pockets: none, inside the suit or outside the suit. All options are self-explanatory and just a case of preference.
Belt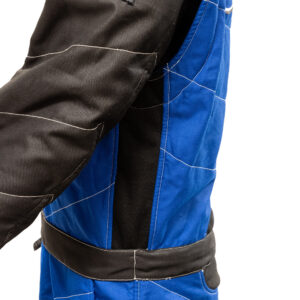 Suits come with or without a belt. Again, either is a matter of taste, but a belt can help improve the fit of a standard sized (rather than a made to measure) suit.
SHOP ZAMP ZR-50 FIA RACE SUITS
FIA:
There are different FIA safety ratings required depending on whether you're using your race suit for track days, rallying, sprints, hill climbs or circuit racing.
UK circuit racing: FIA 8856-2000
International racing: FIA 8856-2000
Special stage rallies: FIA 8856-2000 or FIA 1986 Standard
Sprints and hill climbs: FIA 8856-2000 or FIA 1986 Standard
Track days: No FIA rating required
The UK's Motor Sports Association advise that "with any item of safety equipment, evidence of damage or excessive wear can render it unsuitable for use. In case of race suits, this can include frequent or incorrect washing, broken seams and worn patches."
SFI:
SFI Ratings are determined by the results of several tests conducted on racing suits for fire retardant capabilities and Thermal Protective Performance (TPP). The standard spec for racing suits is 3.2A, or 3.2A/1. Superior construction will yield ratings of 3.2A/3, and 3.2A/5. The increasing last digit indicates an increase in the length of time you will be protected by your race suit before it succumbs to the flames.
What does this mean to you, the consumer? It means that you have a way to differentiate between quality-assured products and untested products. A driver suit that is certified to meet SFI spec has been laboratory tested and has passed the requirements of the tests. Those manufacturers who certify their products as SFI approved demonstrate their commitment to providing the highest levels of safety for their customers.
3.2A/1 gives 3 seconds until a second degree burn
3.2A/3 gives 7 seconds
3.2A/5 gives 10 seconds
3.2A/10 gives 19 seconds
3.2A/15 gives 30 seconds
SHOP ZAMP ZR-50 FIA RACE SUITS