Almost all of today's professional racing drivers started out in karting. In fact, it's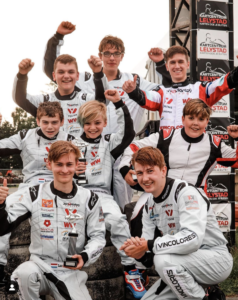 extremely unusual to come across a pro racer who didn't begin his or her career in karts.
Karting isn't just the springboard to launch a motorsport career, it is also one of the most accessible forms of racing, not to mention one of the most thrilling. Regardless of how old you are or whether you intend to pursue a career in professional motorsport, getting into karting has never been easier than it is today.
Starting Out
If you have never been karting before then don't worry, there is a whole host of options available for you. You can participate for a very small cost by heading to your local kart track. The United Kingdom is home to more than 150 kart circuits, from indoor leisure karting venues to purpose-built outdoor tracks that host the highest level of international kart racing. Almost all of those circuits offer an arrive-and-drive package, allowing you to try karting for yourself on a one-off basis.
Children
If your child has expressed an interest in karting, there are plenty of options available to help them take things to the next level. Each track will have its own rules and regulations but a full series of safety information and equipment (race suits and helmets) will be provided to ensure your visit is safe and secure. If these initial visits prove successful and your child continues to show interest in karting then you may want to explore taking things to next level.
Children as young as six can compete in karting in this country in the Bambino category. From eight years old they'll compete in the Cadet category, graduating to Juniors from 13 onwards and into Seniors after their 16th birthday. Within each of these categories, there are various sub-categories, all of which can seem bewildering at first. The best advice at this point is to go along to a club meet at your nearest outdoor kart circuit and find out which of these sub-categories are popular in your local area.
Adults
Getting into karting as an adult pretty much starts the same way as it does for all ages – the first step is to get down to your local track and have a go. The staff at all tracks will talk you through everything you need to know, including how to drive a go kart as well as some handy racing tips.
Next Steps
If you are interested in taking your new found hobby to the next level there are a few things you may want to consider.
Buying Race Gear – Whilst renting gear offers a super affordable and efficient way to get into karting, at a certain point you will want to consider your own gear. The first purchases to consider will be your own race gear; Race Suit, Gloves and Helmet. You will instantly notice the improvement in quality when you own your own gear, not to mention you will start to look the part!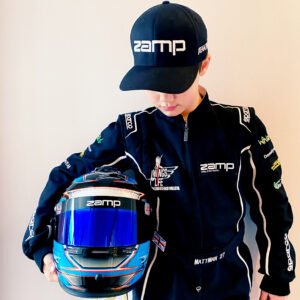 Lessons/Tuition – An often over-looked investment in your racing is lessons. There is no shortage of experienced racing instructors available who can provide excellent insight and tailored feedback to help improve your racing. The most common form of tuition is 1-on-1 lessons, but there are also a growing number of impressive online resources that you can utilise such as the Driver's University from Driver 61.
Signing Up to a Karting Championship – The final step into the world of racing is to get involved with an official karting championship. There are a number of entry level championships where the costs can be kept low, such as competing with Club100. It's a properly-structured and professionally-run championship across the UK, but it's run as an arrive-and-drive format. This ensures that costs are kept as low as possible and competitors don't need to own a kart or even any specialist equipment.
Other championships higher up the ladder will typically require you to invest in your own kart which can cost anywhere from £1,000 to £20,000. Motorsport UK has been working to define a new Karting Pathway, outlining the various rungs of the ladder from total novice to British Kart Championship contender. The first step is the new-for-2020 British Indoor Karting Championship which provides the most accessible and cost-effective way of competing for a national title there has ever been. The series is open to children and adults alike and no prior experience in karting is necessary.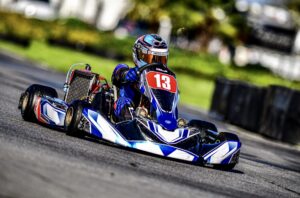 If you are in any doubts about what you should be doing with your racing then just ask! There is no shortage of people involved in racing who are happy to help; from current participants, race organisers, track owners and the team here at Zamp Helmets. 🙂