Picking the correct helmet size is a consideration for everyone; whether it is your first helmet or you have been racing for all your life. Below we walk you through some of the fundamentals for ensuring you select the correct size helmet for your head.
For many of us buying online from websites is becoming part of our day to day lives. Here at Zamp Helmets we want to make buying your helmet from the comfort of your home as easy as possible. To give you as much confidence as possible we offer excellent returns and exchange offerings; you can read more about this on our FAQ's Page.
How to Measure Your Head
The first thing you need is a tape measure to measure your head circumference. Alternatively you can also use a piece of string which you can measure against a ruler.
To get the correct measurement you need to measure around the biggest part of your head, an inch or so above your eyebrows and your ears. Take several measurements to make sure you have the largest one. You can then take this measurement and use our Zamp Sizing Chart to select your size.
If your measurement is between sizes, you have a couple of options. First consideration should always be what your preference is on sizing; tight or less snug. On top of this we also suggest rounding up to the next largest size. You can always incorporate a balaclava or head sock to provide a tighter fit.
How Does a Zamp Helmet Fit?
It is common knowledge that each helmet brand has its own fitment. Zamp helmets have a traditional intermediate Oval shape; for comparison we fit similarly to Bell helmets.
As is common in motorsport our sizing varies depending on the helmet model. The Zamp Helmet range is split into 2 categories: Premium Fit and Standard Fit (SEE TABLE BELOW). Our Premium fit helmets come with a plush interior liner that provides an all-round comfortable and secure fit. The soft liner provides great stability around the crown of the head whilst also offering good security on the cheeks and jaw line. Our Premium fit helmets are true to size.
The Standard fit range provides a good fitment and comfort level. However, the slight reduction in liner thickness does result in a smaller fitment. As such these models size slightly smaller than the Premium fit helmets. If you are between sizes, we would suggest the larger of the two sizes.
How do I Know if a Helmet Fits Properly?
Now you have your helmet on make sure it's nice and tight but you don't want it too tight. If the helmet slides down on the head with no resistance, you have your first indication that if may be too large, but be aware a properly fitting helmet should be snug. Start by doing up the helmet and securing the D-rings. There may be occasions where you're driving for several hours so you need it to be as comfortable as possible. Make sure it's not hurting anywhere with no pressure points. Start with feeling how close the helmet is around your cheeks; make sure there are no gaps. Then move up to your temples and forehead, you don't want to be able to get your fingers in there. Keep in mind that padding tends to soften after extended use, so we recommend a snug fitting helmet. And finally, check the back of the crash helmet; if it's snug then it's the right size for you.
You can also use a mirror to look for visual signs. Correctly position the helmet on your head and try to move the helmet side to side. Check to see if the cheek pads are in contact with the cheeks. Is there excess pressure on the cheeks or are they too loose? If you move the helmet up and down there should be little movement, the helmet should not come down over your eye line.
"I have a Small Head, Can I wear a Youth Helmet?"
Whilst the measurement guide uses a simple 'CM' sizing guide this does not tell the full story. The Shell Size differ massively between the Youth CMR helmets and the adult helmets. As such a 57cm Youth Helmet will not fit the same as a 57cm adult helmet. We therefore WOULD NOT ADVISE buying a Youth CMR helmet if you are over the age of 15.
On the flip side, for younger drivers who have grown out of their 57cm Youth Helmet we suggest that you will require an ADULT size SMALL helmet. See below for comparison between Youth 57cm and Adult size SMALL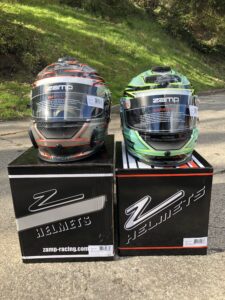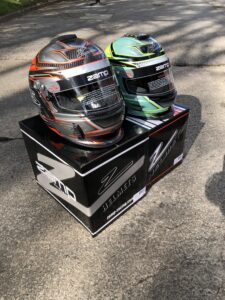 What Do I Do If I'm Under 15 And Cannot Fit Into A Youth Helmet?
You will still be able to participate in youth racing if you cannot fit into a youth helmet, as long as you can provide verification to Motorsport UK and they have granted you exemption. You can then show this exemption to the racing scrutineers.
Verification to Motorsport UK can take the form of a doctor's note confirming the head circumference measurement, or written confirmation from a specialist motorsport helmet retailer stating that the largest size has been tried and is not deemed to be a suitable fit. Any such requests should be directed to technical@motorsportuk.org. If granted exemption, the recipient will be supplied with a one page certificate, including competition licence number, that should be presented with the helmet whenever scrutineered up until their 15th birthday.
Still unsure on what size you need? Just contact us for more help.