Is it time to upgrade your Zamp Helmet? Depending which Zamp Helmet you own, there is a whole host of Zamp Accessories or upgrades that you can add to your helmet. Whether you want to increase the airflow, invest in a new visor for Summer or just want to add some more colour into your design, we have you covered!
HANS Posts – Every Zamp Helmet comes with the M6 Terminal pre-drilled meaning that you can add Hans Posts (*Except the Youth CMR range). We offer Hans Posts in 3 different colours: Red, Blue and Silver. This gives you the ultimate choice to match up to your Helmet's Paintwork.
Z20 Visors – Our range of 9 stunning visors means you can prepare your race day set up for any light conditions. Easy and quick to change the Z20 visors can help you improve your vision during low light or on the sunniest of days. The entire Zamp Helmet range is compatible with and can be upgraded with the Z20 Visor.
Z20 Anti-Fog Visors – Whilst the standard Z20 visor incorporates a brilliant anti-fog coating the specialised ANTI-FOG series visors are designed for the toughest conditions. For the coldest days when you you require that edge on the competition the Anti Fog visors provide crystal clear vision when you need it most.
Anodized Visor Screws – Sometimes standing out on the track and looking unique can be the difference in your mental game. Knowing that you look different to every other racer on track that day can make you stand that bit taller and hold your head that much higher. The Anodized Zamp Visor Screws enable you to choose between 7 different colours to give your helmet that added splash of colour unique to you. The screws are compatible with all Z20 visors.
Rear & Chin Spoilers – A highly recommended addition for anyone driving in an open cockpit. The Rear and Chin spoilers are designed to keep the helmet even more aerodynamically secure at high speeds. Reducing lift and strain on the neck and head this is a must for anyone planning on going fast!
Helmet Bag – Nothing is guaranteed to keep your helmet safe, secure and looking fresh as the stylish Zamp Helmet bag. Made from a sturdy Black/Grey Nylon design at just £29.95 this is one of the most popular accessories in our range. Large Helmet Bag (3 Helmets) is also available for those people who carry multiple helmets.
Top Scoop – Looking for more airflow? The Top Scoop can be easily added to a large number of helmets within the Zamp accessories range. This sleek accessory can be mounted on the cheeks of the top of certain helmets to provide improved airflow. The Top Scoop also comes with a simple black bung that enables you to close the airflow off when required.
Ear Cups With Speakers – Looking to install communication into your Zamp Helmet? The Ear Cups with Speakers gives you the option to incorporate communication into your helmet. Ideal for drivers in endurance championships or those riding with a co-driver. Zamp's Ear Cups with Speakers kit allows you to run one-way or two-way communication in your favourite helmet. Easy to install and set up, these Ear Cups with Speakers attach inside the helmet for easy installation and use.
Visor Tear Offs – The Zamp Visor Tear Offs are designed to be used on Zamp helmets. If you are racing open cock pit and want to make sure your vision stays clear then be sure to get your Visor Tear Offs.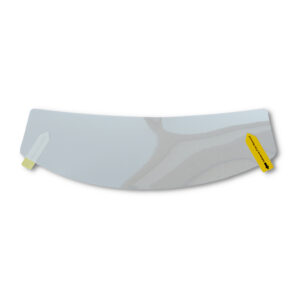 Visor Peak White – This peak fits onto all Z20 compatible ZAMP helmets in place of the visor. So if you are racing closed cockpit and want to get the Touring Car look this is the accessory for you.
Helmet Communication Kit – The Zamp Helmet Communication Kit is made up of a microphone set with jack connection for loudspeakers or earpieces. It can be configured for a PELTOR/SPARCO , MOTOROLA or STILO WRC* car intercom radio equipment. Our kit includes everything needed to set up communications inside your helmet, including hardware.
Team Zamp Driver package – Complete the Zamp look and represent the brand on and off the track. The Zamp Cap is manufactured in the UK and provides style and comfort in equal measure with a premium stretch design. The Zamp Helmet Bag is ideal for both protecting your helmet and looking stylish in the pits; durable and compact this is a must to protect your lid. The Zamp 5 Sticker Kit is an easy way to make your car or kart stylish and professional.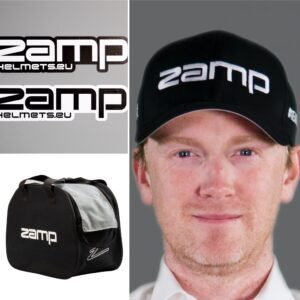 Eyeport & Base TrimZ – With 12 colours to choose from in both the Eyeport and the Base Trim section of your helmet you have over 100 colour combinations to choose from. The ultimate way to upgrade the colour and design of your helmet.
Tear Off Posts – Available in 6 separate colours, these anodised replacement Tear Off Post Screws offer another fantastic way to customise your helmet and make your helmet paint stand out on the grid.