There's no doubting that motorsport is ever-changing, making it's future a very interesting conversation indeed. We've compiled a few predictions for what we think may be coming in the not-so-distant future.
1.Electric vehicles
Starting with the one we all know is coming : electric vehicles. It would be impossible to discuss the future of any kind of motoring without mentioning the transition we are all making from traditional fuels to electric, especially with the meteoric rise of Formula E. Even if karts & cars aren't fully electric, there is a huge buzz forming around hybrid engines too. Back in 2014, Formula One implemented a shift from their old v8 engine model to hybrid power units to lower emissions. Not only do these units recover heat & kinetic energy from braking to boost the vehicles, they're also more efficient which allows for fewer pit stops (which can only be a good thing for drivers & spectators alike!)
2. Driverless vehicles
We're used to hearing about the race to a driverless car on the roads, but what about on the track? Autonomous racing, self-driving racing or autonomous motorsports is an up-and-coming sector within our sector, with the release of popular races such as Roborace. Of course, this merges the sport into a tech race, more than a race of driving skill as traditional motorsport races lean on. That being said, in autonomous racing the cars are the same, meaning that the only differentiator is the AI driver software the teams develop for the competition.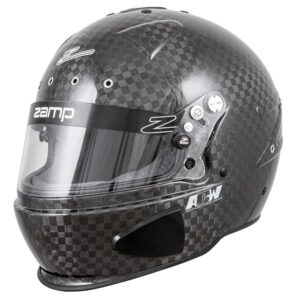 3. Lighter, more efficient materials
The development of things like carbon fibre have been revolutionary in creating lighter cars and lighter accessories & equipment in motorsport. It is therefore no surprise that the development of materials in motorsport is focused around creating something even lighter & durable than carbon fibre. Of course, there is an accessibility debate around the use of carbon fibre as the use of this does come at a premium, so it will be interesting to see if the development of new materials will take pricing & accessibility into account.
4. Gaming & e-sports
According to a 2017 sports survey, over 43% of Motorsports fans have shown an interest in e-sports, and it's no surprise. E-sports give a similar thrill without the risk, allowing you to experience some of the world's best tracks from the comfort of a simulation chair. It's also extremely accessible to newcomers to motorsport, showing to be the lowest cost way to gain experience & understanding of what it takes to make it in motorsport (although nothing will beat the smell & atmosphere you'll experience next to the track, right?). E-sports are becoming so prevalent that Motorsport UK have recently announced that they are currently working with the FIA's E-sports Commission working groups and assisting with the E-sports Sporting Code.
There's no denying that there are many very exciting things to come for us all as fans & members of the motorsport community. We are certainly very excited to see how the sport & it's participants evolve as the years go on with, many highly anticipated moves coming sooner rather than later.