Regardless of what kind of helmet you're looking for, there are a number of consideration that you should take into account when the time comes to buying a new motorsport helmet.
Helmet Type:
Whilst all auto racing helmets are designed to perform the same basic function of protecting your head in the event of a crash, the modern helmet market caters for a much wider range of functions to meet the specific demands of every specific type of racing.
At the lower end there are basic Track Day Helmets for casual enthusiasts and those racing in national racing or karting, and while these helmets do not need to meet the higher forms of homologation, they are nonetheless still strong products which will offer a good level of protection at a reasonable price.
Race Helmets are top-of-the-line offerings, boasting the best materials and construction and bestowed with all the latest and greatest tech and peripheral accessories like HANS posts and comms, and hydration systems.

There are also Rally Helmets which are dedicated race helmets, though designed specifically for off-road and rally use. These helmets often have an open-face look and come compatible for communication.
Lastly, we also have CMR Karting Helmets, designed specifically for Youth Karting for those under the age 14. These helmet are designed under a set weight limit in order to provide reduced stress in the instance of a crash.
Safety Standards:
Perhaps the biggest consideration prior to buying a helmet is safety standards. For auto racing helmets there are two main standards are SNELL and FIA. These are rating standards that determine if a helmet is up to standard for racing duties. If you want to race at a track, your helmet will need to meet (at least) one of these ratings. There are multiple SNELL and FIA ratings so be sure to do your homework before pulling the trigger on a purchase.
Materials:
The next major area to consider is the type of materials used in the helmet's construction. There are a whole host of materials used when it comes to helmet design, each has its own merits and usages. The material used impacts the weight of the helmet as well as the level of protection is affords; understandably the material used will also have an affect on the cost of the helmet.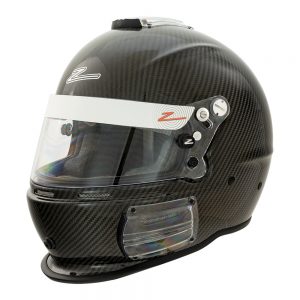 The main types of materials used on modern helmets are fibreglass, carbon fibre, and composites, the latter of which boasts the most complex construction and is usually comprised of a combination of fibreglass, carbon fibre, and kevlar. Within the Zamp range you can also see a range of materials being used, from the
basic Composite Mix used in the RZ 56 & RZ 35E, to the new lightweight and strong Aramid Kevlar Mix used in the RZ 62 & RZ 70E. The most sought after material has long been carbon fibre for its incredible strength to weight ratio; you can find this in the RZ 44CE & RZ 65D helmets
Ventilation & Aerodynamics: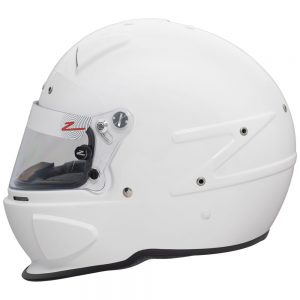 Airflow is hugely important on racing helmets. Wearing a thick, well pa
dded, hard shelled object on your head whilst tearing round a track at high speed can get pretty hot quickly. Providing air-flow into the helmet is integral to keep the driver cool allowing them to stay focused. Also important is the ability to keep air passing past the visor, too much hot air (especially in cooler climates) can result in the visor misting up. Through out the Zamp range there are a huge number of air-flow options, including the new Z Tri-Air system which can be found on all new Snell 2020 helmets that provides a smooth and consistent air flow around the entire head.
In Open Cock Pit racing there is another consideration when it comes to aerodynamics. At high speed the helmet will need to be able to cut through the air seamlessly to provide the most efficient driving experience. A common feature amongst the Zamp range is the 'Duck Bill' design on the chin of the helmet which actively forcing the chin of the helmet downwards to avoid 'lifting' at high speed.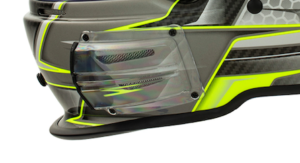 Fitment:
For a helmet to properly do its job it has to precisely fit your head. Most helmets are offered in multiple sizes (and multiple shell sizes), at Zamp we are no different. Our helmets size from XS – XXL (see sizing chart below). In some circumstances it is also possible to provide an adjustable fit for an even more precise fit but changing the cheek pads or crown liner. As you can see from the sizing guide below the best way to size yourself for a helmet is to measure around the circumference of your head just about the eyebrows. It is also important to get a helmet that fits the shape of your head. Certain manufacturers have specifics shapes to their helmets; here at Zamp we have a typical shape that fits almost all head sizes. The closest comparison to other helmets in the market would be with Bell.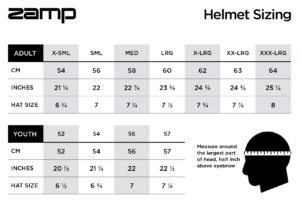 Accessories:
This section if far more at the discretion of you the racer and the parameters of the racing you will be doing. The most common accessory that each driver will want to consider is a replacement visor, a tinted visor can be invaluable in bright conditions or an Amber visor for use in low light conditions. Each helmet model will come with a different range of accessories that can be used with it; such as HANS (Head and Necks Support) systems, ventilation or hydration setups, communication equipment, visors, duckbills, visor screws, aero wings and tear-offs, just to name a few. Within the Zamp range all of our helmet can be fitting with the Z20 visor range, all our adult helmets come pre-drilled with the M6 terminal which allows for a HANS post to be fitted.