As a supplier of goods covering a range of homologations and standards, we have compiled this comprehensive guide to helmet homologations including FIA, SNELL and CMR.
What Homologation Do I have?
If you need to find out what homologation is in your current helmet, you can find this inside the crown lining,  often tucked beneath the padding or lining inside the helmet. Oftentimes your helmet may carry two standards, therefore you may see two separate sticker (e.g. FIA & SNELL). In this circumstance the FIA standard would overrule the SNELL as FIA holds more weight in national/international motorsport.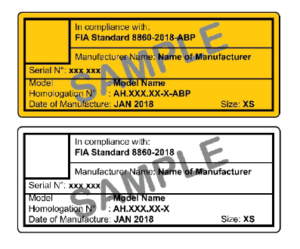 We have a number of FIA-Approved Helmets within the Zamp range as it is the most widely used within the UK and across Europe.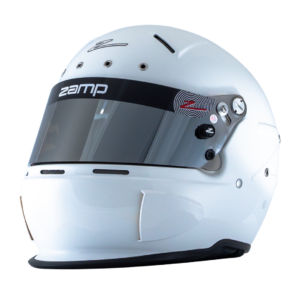 Further to the FIA's 8859-2015 standard, there are higher levels of approval that fall within the 'Advanced Helmets' standards – FIA 8860-2018. They are the most stringent helmet standards in the world, in terms of impact energy absorption, sharp objects penetration and HANS/FHR testing. The new Zamp RZ-88 Helmet is currently the only Zamp Helmet within the range to have this level of FIA approval.
High level Championships like WRC, Le Mans and Blancpain GT do require the 8860-2010 and 8860-2018 homologations to be used. The 8860-2010 will expire at the end of 2028, but you can of course wear these helmet standards for any form of competition if your budget allows.
At the time of writing, we are working on production of both an Open-Face and Full Face helmet with FIA 8859 homologation, coming soon in 2023.
Further to the above list of FIA helmets, there is also SNELL Homologations. These are less strict than the FIA tests. Snell SA2010 standards or older have now expired and are no longer suitable for any International/National Motorsport that require a suitable safety standard. 2020 saw the introduction of the  SA2020 homologation, there is currently no expiry date for these helmets. The SNELL standard is used by a large number of national motorsport bodies in the UK and throughout many Karting championships in the UK and Europe.
In the UK, if you're unsure which standard is required, please review the competitor's safety section 10.3.1 in the current blue book for clarification or speak to your race organiser directly.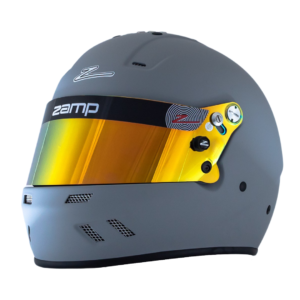 The RZ 59 Matte Grey is an example of an Snell SA2020 approved helmet[/caption]
To simplify, below is a list compiled of all the current helmet standards in the market today, along with their validity in International motorsport.
For Karting, any of the above standards can be used (so long as they are still in date). For Youth Karting there are specific standards; Snell CMR2016, Snell-FIA K2015, Snell K2020, Snell-FIA CMS2016 and Snell-FIA CMR2007, which do not have an expiry date. The RZ 42Y is the Zamp Youth karting helmet and comes complete with the Snell CMR2016 homologation. A new CMR standard is due although at the time of writing there is no current announcement on when so keep your eyes peeled for this in the near future.
There are a number of safety standards specifically designed for Youth Karting, including Snell CMR2016, Snell-FIA K2015, Snell K2020, Snell-FIA CMS2016 and Snell-FIA CMR2007.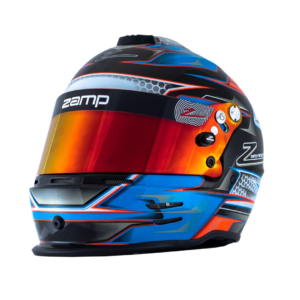 As stated on the Snell Foundation's website, the main difference between these standards are as follows: "The SA standard is designed for competitive auto racing. The M standard is for motorcycling and other motorsports. The K standard is issued to accommodate helmets used in karting. There are two major differences among them:
The SA standard requires flammability test while the M and K standards do not.
The SA and K standards allow for a narrower visual field than the M standard. This means that some SA and K certified helmets may not be street legal."
Please note, Youth Helmets are designed for racers under the age of 15 and should not be worn by adults. Sizing for youth helmets is down to the shell size of the helmet and this differs greatly between the Youth CMR Helmets and the adult helmets. As such a 57cm Youth Helmet will not fit the same as a 57cm adult helmet. We therefore WOULD NOT ADVISE buying a Youth CMR helmet if you are over the age of 15.
That being said, for younger drivers who have grown out of their 57cm Youth Helmet, we suggest that you will require an ADULT size SMALL helmet.

FAQ's
Which helmet do I need?
Answer: Check with your event organiser on the standard of helmet required as they can differ. Any helmet with the FIA 8859-2015 standard inside will be suitable for the majority of national motorsports, unless the higher FIA 8860 standard is stipulated as a requirement. These are only generally required for FIA sanctioned series' which are at the highest level of motorsport. 
What happens if my new helmet from Zamp Helmets doesn't fit?
Answer: Don't worry we can arrange an exchange for another size
Will my helmet last longer if it is Snell SA2020 rather than Snell SA2015 if both helmets also have the FIA 8859-2015 approval?
Answer: No. The Snell SA2015 or SA2020 standard only really has relevance in the USA. The FIA 8859-2015 approval overrules the Snell approval for national and the large majority of international motorsport today. In fact, several manufacturers today produce their helmets with just the one FIA 8859-2015 safety standard.
Can I fit HANS/FHR posts myself to my current, but in date helmet?
Answer: You can, providing the helmet has not expired and has pre-threaded inserts to fit the posts. The FHR posts and tethers on your HANS device have the same homologation of FIA 8858-2010.
Can I use an ECE approved helmet for motorsport?
Answer: No, these motorcycle specific helmets are not approved for Motorsport use. They are OK to use on Track Days or arrive and drive rental karting.
Across the Zamp range, we stock models that cover all the core homologations and standards, as well as catering to all budgets and requirements. If you are still unsure please feel free to contact us at
info@zamphelmets.eu
.